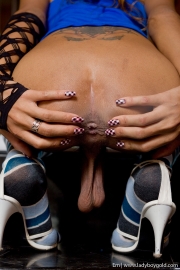 Cameltoe Spread
Ever seen a Ladyboy cameltoe? Em's beautiful balls are so big she has a hard time tucking them into her panties. Especially in g-strings, Em's sexy balls hang rudely...
Bubble Bath
Ladyboy Em has lots of dirty thoughts, so she takes a bubble bath to try and clean up! Em lays back in bath, caressing her giant cumfilled balls in warm water. Em...
Ladyboy a-Go-Go
Even though Em is a shy little slut, she fantasizes about dancing in a go-go. Holding onto the chrome pole like it's a hard cock, Em dips and lowers her ass to her...
Swinging Slut
Em likes being a submissive Labyboy sex slave. With her cock and small tits loosely covered in a chain bikini, Em climbs in a sex swing. All her sexy holes are ready...