Daisy Dukes
Lee sticks out her sexy teen ass in denim Daisy Duke shorts. Teen Lee takes off her shorts LOVE to slip two fingers in her asshole.
Teen Cheerleader
In school, Lee fooled all of the boys as a cheerleader. Beautiful face, perky natural titties and a petite frame, Lee turns heads where she goes! Lee's favorite cheer...
Love Slave
Lee wants to be treated like a sex slave. Handcuffed and held down, her ass high in the air and completely exposed. Lee's asshole is an inviting target, ready to...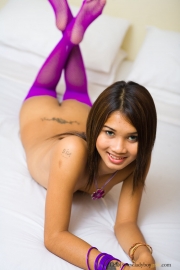 Purple Stockings
Wearing ONLY sexy purple stockings, Lee fingers her tight PUCKERED butthole. Lee slips in two fingers at the same time to pry her anus open WIDE!
Socks and Cocks
Cute Lee raises her long sock wearing legs high and opens her teenage Ladyboy asshole. Lee can keep a secret..... can you?