Soda Teen
Having just finished a Soda, Lee is feeling a little kinky. The shaft of the bottle reminds her of a long cock, so Lee wets the opening with spit, licking the cool shaft. Hold her cute balls up,...
Cumfilled Mouth
Ladyboy teen with a mouthful of HOT CUM! Lee looks up at you submissively with those beautiful green eyes, wanting you to blast a huge load of cum in her waiting mouth. Lee is here to bring you...
Gaping Teen
Lee drops her petite panties, and toy fucks that TIGHT ass into submission! Wearing cute green socks, Lee looks at you with hungry sex starved eyes with the toy sliding fully out of her asshole....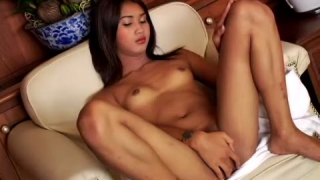 Toy Stuffed Ass
Dainty Ladyboy Lee lies back in the chair, letting the towel fall open. Lee is HORNY, and starts pinching her tiny nipples fingering that THAI teen love hole. Using a clear dildo, Lee continues...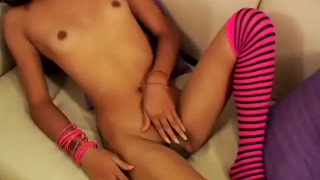 Pink Stockings Part 1
Lee is ready for a hard fucking! Dressed in only SEXY pink and black stockings, HORNY Lee touches her petite cock and magical asshole. Teen Lee bends over and teases you, sticking that tiny ass...
Pink Stockings Part 2
Ladyboy Lee wraps her teen lips around a hard hot cock! Lee bobs her head up and down, forcing the cock into the back of her mouth. As the cock penetrates deeper, Lee's throat stretches to...
Pink Stockings Part 3
Lee impales her tight Ladyboy asshole on a hard cock! The walls of Lee's ass stretch as the fat cockhead SPLITS her in half. Lee squeals and perky tits bounce as she slide up and down. Lee bends...
Ass Up Teen
Lee fills her TIGHT Ladyboy ass with a buttplug, doggiestyle! While playing on the bed in cute clothes, Lee sticks out her ass on hands and knees, and fucks her TIGHT tiny ASSHOLE with a fat butt...