Red Flower
Feeling sexy and sultry, Amy shows off every centimeter of her Ladyboy figure on the bed.
Playful Submission
Amy's feeling playful today, lounging in soft white lingerie. She knows her place submitting ass up when you enter the room.
Petite Bikini
Amy just finshed teasing unsuspecting guys at the beach, and now wants to tease you! But only you see her special little 'secret'!
Ocean Bikini
Amy wants to show off her AMAZING body to the world, so she heads to the beach in her pearl white bikini!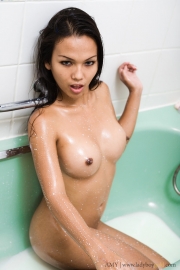 Milk Bath
Amy pours white milk all over her petite Ladyboy body. She read that Cleopatra did the same routine to kept her skin soft and silky. Amy loves to pamper herself and...
Jade Bracelet
Wearing ONLY a jade bracelet, Amy poses and prances around her amazing sex bomb Ladyboy body. Totally naked, just for you.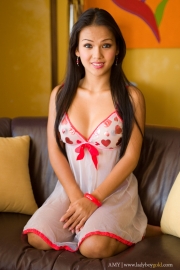 Hearts and Lace
Amy flashes her perfect Ladyboy butt in sexy hearts lingerie. Spreads her buns wide, Amy shows off the bullseye of her flawless browneye.
Glass in Ass
Amy sweetly looks at you while spreading her tight asshole. Her glass sex toy rudely enters her tender ass with a Pop!
Doorway Derriere
In a softly lighted doorway, Amy displays her sexy ASSets in stocking and heels. Amy spreads out that delightful petite body on the floor in a corset and panties....
Ass to Mouth
Amy deep throats her purple dildo, then fucks her sexy exposed ass. Wearing a shiny pink top and short white girlfriend skirt Amy is a piece of Ladyboy heaven. Petite...